AquaPilot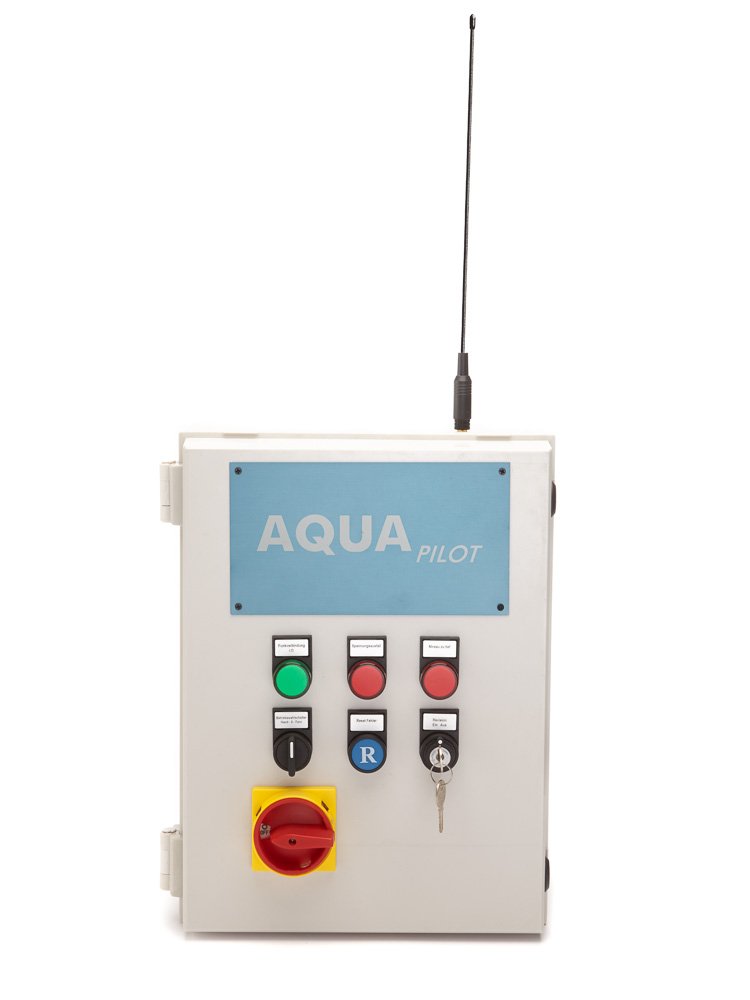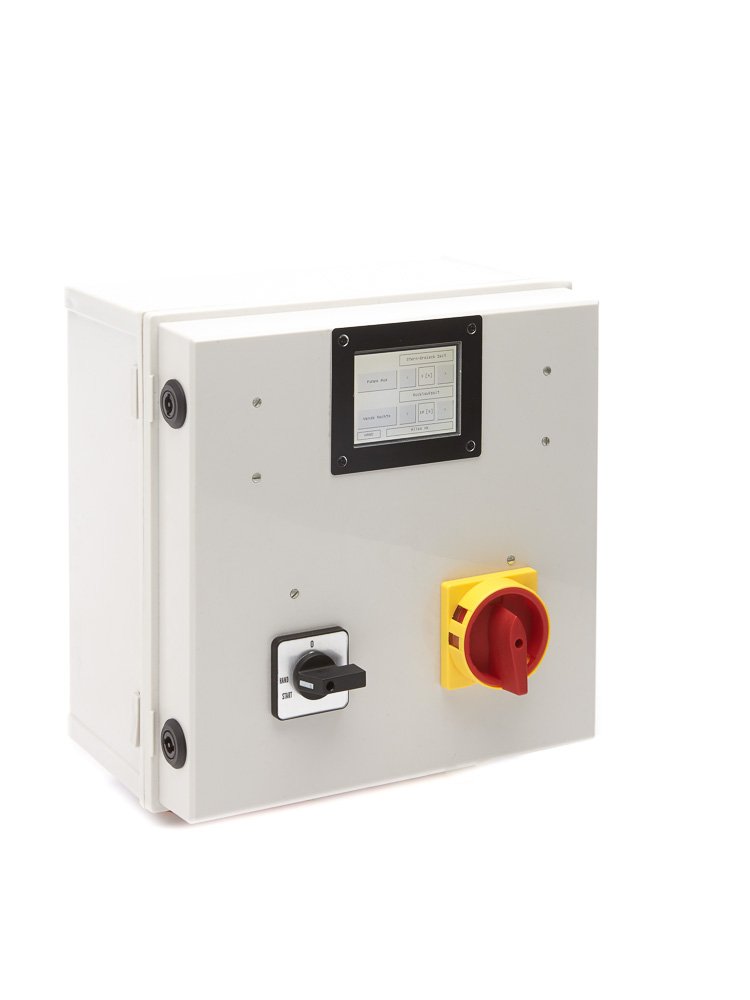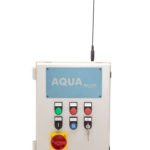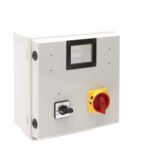 Contact us for more information
| | |
| --- | --- |
| Range | unlimited / worldwide |
| Frequency | GSM, GPRS, DSL, ISM |
| Digital outputs | 8 (Standard), 9..1024 (Optional) |
| Switching capacity relay | 8A / 16A @ 400VAC |
| Analog outputs | optional (4..20mA, 0..10V usw.) |
| Digital inputs | 8 (Standard), 9..1024 (Optional) |
| Analog inputs | optional (4..20mA, 0..10V usw.) |
| Input voltage | 12VDC, 24VDC, 230VAC, 400VAC |
| Availability | on demand |
| Applications | Wasser supply, Irrigation controller... |
Wireless remote control for the water and sewage industry
The pump controls for your water or sewage business can be individually tailored to you needs making us your direct partner for water supply companies, water coooperatives and general contractors active in the sector. Whether you need an individual part of series production, with or without wireless, alarm activation by SMS and/or email access by Smartphone or PC sets virtually no limits to your access requirements.
With our controls we switch and control your pumps for your needs. Whether with DOL start, star-delta, soft start or frequency converter controls we offer for every requirement and applictaion a corresponding cost-effective solution. Our controls monitor and regulate your pumps in a safe and reliable way and provide notification in the event of abnormal conditions by telephone or wireless, by SMS or email. We construct pump controls from 1kW to 54 kW and are well equipped to do so.
Depending on the prevailing conditions stations can communicate with each other by wireless, cable or by GSM (telephone). Through the option we offer to create redundant communication channels, in the event of a fault, the other channels takes care of communication and the plant contiinues to run without a fault. In addition, alarms can be sent and confirmed by SMS or email. With our own wireless modems we are in a position to set up reliable, wireless-based controls over distances of several kilometers without annual fixed costs also using GSM technology.
With our highly sensitive wireless modules we create wireless connections of up to 10km in the licence-free ISM bandwidth. Our special wireless technology also functions reliably when other interference is present. You can also use our wireless relay to extend the distance further or the mesh communication topology. In this case the outposts function as relay stations. This allows for broad coverage with wireless communication networks with a transmission radius of up to 50 km.
From simplest float controls with or without software to complex touch screen operated master-multi-slave with many inputs and outputs we can offer you everything. With our own development and production facilities we can put together anything from an individual part to series production with optimal adapted controls at an outstanding price/performance ratio.
Do you want to monitor and control your pumps by telephone, access them for remote maintenance or read the water satus, level and counter using a web browser in your office? No problem. Our controls are fitted with the necessary technology with functions which can be activated when needed.
To ensure installation of our controls into existing plant we support a variety of interfaces for communication, RS232, RS485, USB, Profibus, Profinet, Ethernet, EtherCAT, Interbus, Lightbus, DeviceNet, Modbus, digital or analog inputs and outputs). Furthermore, our controls can be integrated for FTP and wweb servers giving you global access to log files, status displays, level and counter status etc.
From simple push button controls to a touch display solution we offer everything for your pumps. We program operations on the touch screen according to your needs and wishes. The controls are also available with a wide range of monitoring and control options so that your pump runs reliably with a long service life (time switch, motor guard, operational hours counter etc.). In addition we offer accessories perfectly adapted to controls such as wireless remote controls, float controls, klaxon and flashing lights